The advantages of training with Accutrainee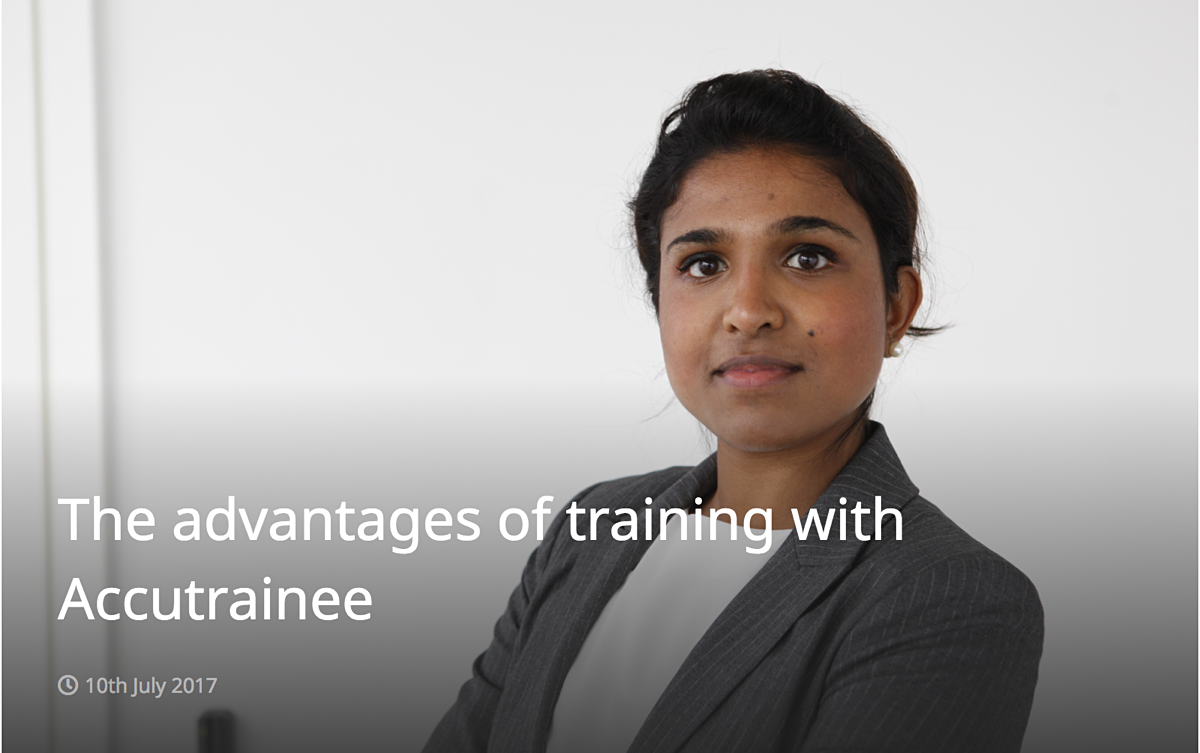 How does the Accutrainee selection process compare to a traditional law firm selection process?
The application process was straightforward and quick compared to many traditional law firms.  If successful at application stage, you are invited to attend an HR interview with Recruitment Manager Payal Savani and if successful at that stage, you are invited to an assessment centre where, amongst other things, you will interview with Founder, Susan Cooper.
How did you find the interview process at Accutrainee?
On having my first meeting with Payal, I was immediately struck by her friendly and genuinely down-to-earth approach.  This is very different to the recruitment process at some law firms. When I subsequently met Susan, although I was a little nervous, Susan's passion and friendly nature immediately put me at ease and I honestly felt like she wanted me to succeed and to bring out the best in me. There were no trick questions and you felt you could just be yourself.
What happened after you successfully completed the selection process?
After the selection process, the match making process began and I was matched with client secondments that were in line with my practice area preferences.  Shortly after successfully completing the client selection process, I was offered a role with a business insolvency private practice firm in the City, where I was supporting both the founder and a property consultant with all commercial/residential property matters. There was undoubtedly a steep learning curve, but I thoroughly enjoyed the high level of responsibility.   After my business insolvency secondment, I worked for a US trade finance firm, and then in-house, for a Consulting Firm in financial services regulation.
What are the main advantages of training with Accutrainee over a traditional law firm?
What was great was that every month I would have a direct mentor meeting with a senior solicitor from Accutrainee, where I could discuss any issues/queries on my mind. The mentors frequently came up with practical solutions to help with my development and learning and suggestions on how to resolve any issues and get the most out of my training contract. This was a real advantage because you always felt like you had an impartial mentor supporting you – which I believe is a truly unique offering at Accutrainee.
Overall, the training contract – across both private practice and in-house – meant I got great variety. Unlike being stuck with one law firm for two years, at Accutrainee being seconded to different clients meant I was experiencing changing working environments and working with different people which really stretched me to progress my skills and knowledge. I now feel very confident as an NQ solicitor, having gained a solid range of experience under my belt.
If someone is looking to apply, and feels they are tired of the traditional law firm approach to recruiting trainees – honestly, just apply. I have no hesitation in recommending Accutrainee whatsoever.
Sutha Mohanadas