How Accutrainee seconded me back to my own firm to help me qualify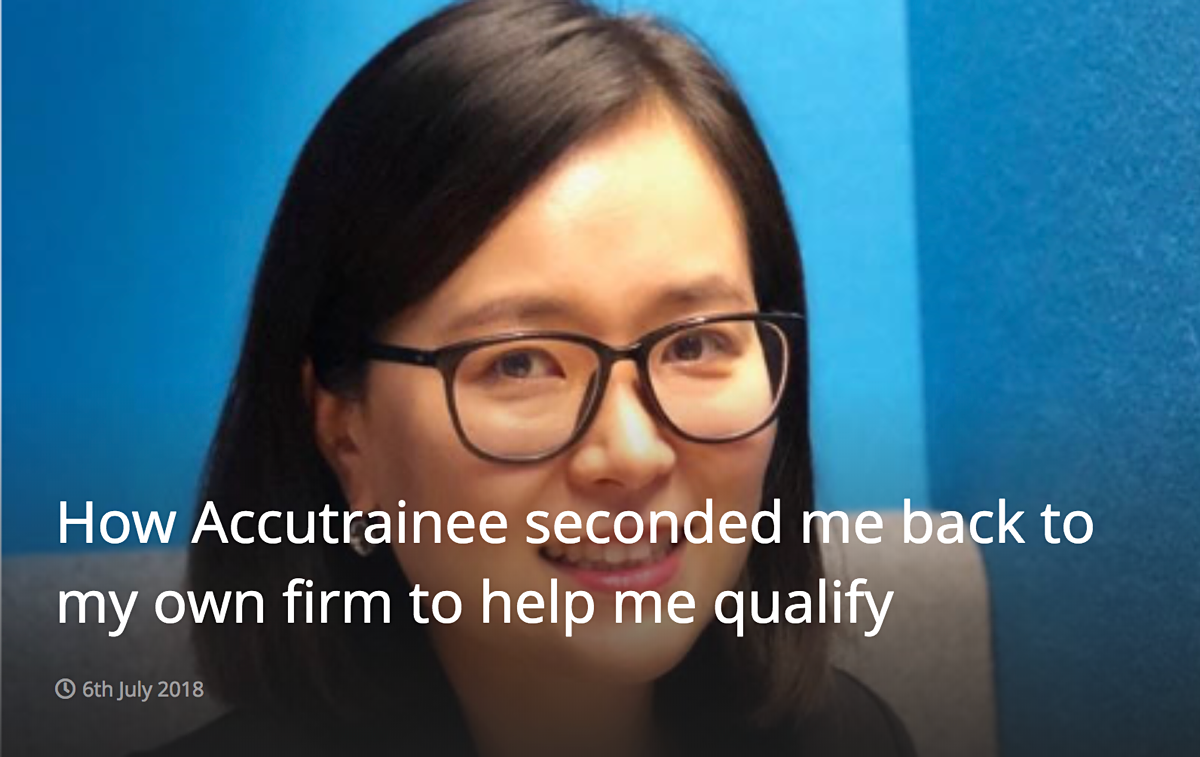 I had already been working in a top-tier investment bank for a number of years and was fortunate enough to be sponsored through both the GDL and LPC part-time.  It had been planned that I would complete my training contract in-house as well but wider circumstances dictated that this would no longer be feasible.  It was therefore serendipitous that on a training course, I happened to sit next to Elliot, an Accutrainee. He told me about the innovative training contract programme Accutrainee had introduced to the legal profession, which was just what I needed to continue my journey towards qualification.
I am now seconded to the same investment bank.  I am currently working on the trading floor assisting front office desks that cover Financing, Derivatives and Structured Products within Global Markets, which gives me exposure to a number of complex transactions.
A financing transaction would typically be for hedge funds or private equity clients who seek to borrow money using their portfolio as collateral.  My support includes drafting the necessary documentation, managing calls with both the instructing client and external counsel, co-ordinating internal sign-offs and closing the transaction.  I'm not quite the Harvey from Suits but it certainly keeps me busy and is sometimes just as dramatic!
A fund derivative transaction takes the form of a swap or an option, which derives its value from the underlying fund. I prepare the swap or option confirmation based on both the traded term-sheet and the relevant ISDA Definitions or ISDA Master Agreements signed by the counterparties. If disputes arise, I will review and negotiate the updated terms with support from my supervisor.
Structured Products are fixed-term investments where the pay-out depends on the performance of a fund, equity shares or indices. I provide ad hoc advice to the business, prepare the legal documentation and manage the delivery via external counsel, if there is no precedent.
The secondment is challenging but rewarding.  Some of the highlights include:
Getting involved in very complex financing transactions and instructing external counsel
Improving my communication skills by briefing external counsel
Learning to stay calm even when legal issues inevitably pop up right before closing
Updating legal documentation related to high profile regulatory change for example in relation to PRIIPs (Packaged Retail and Insurance-based Investment Products Regulation)
Gaining increased responsibility for advice, drafting and client engagement
There is always too much to do but the Accutrainee team provides an excellent source of training, support and guidance throughout the process.  There are monthly meetings with my mentor who has a wealth of both legal and practical experience to offer via her long career at a Magic Circle firm.  There is always someone to reach out to should you need support.
Outside of work, I volunteer to represent people at employment tribunals through FRU (free representation unit) amongst other things!
I am due to qualify in just six short months because Accutrainee helped my employer by adopting the role of the training establishment, delivering the necessary structure to my training and managing all regulatory requirements to ensure that I receive a top quality training experience.
So if you are currently working at an organisation as an experienced documentation specialist or managing transactions from a legal perspective and your manager would like to help you on your journey to qualification but isn't quite sure how to do it, I recommend getting in touch with Accutrainee to see how they can help.  I would also suggest contacting Accutrainee, if you happen to be a paralegal with several years of experience and would like to pursue further training.