Day One to Qualification – My In-House Training Contract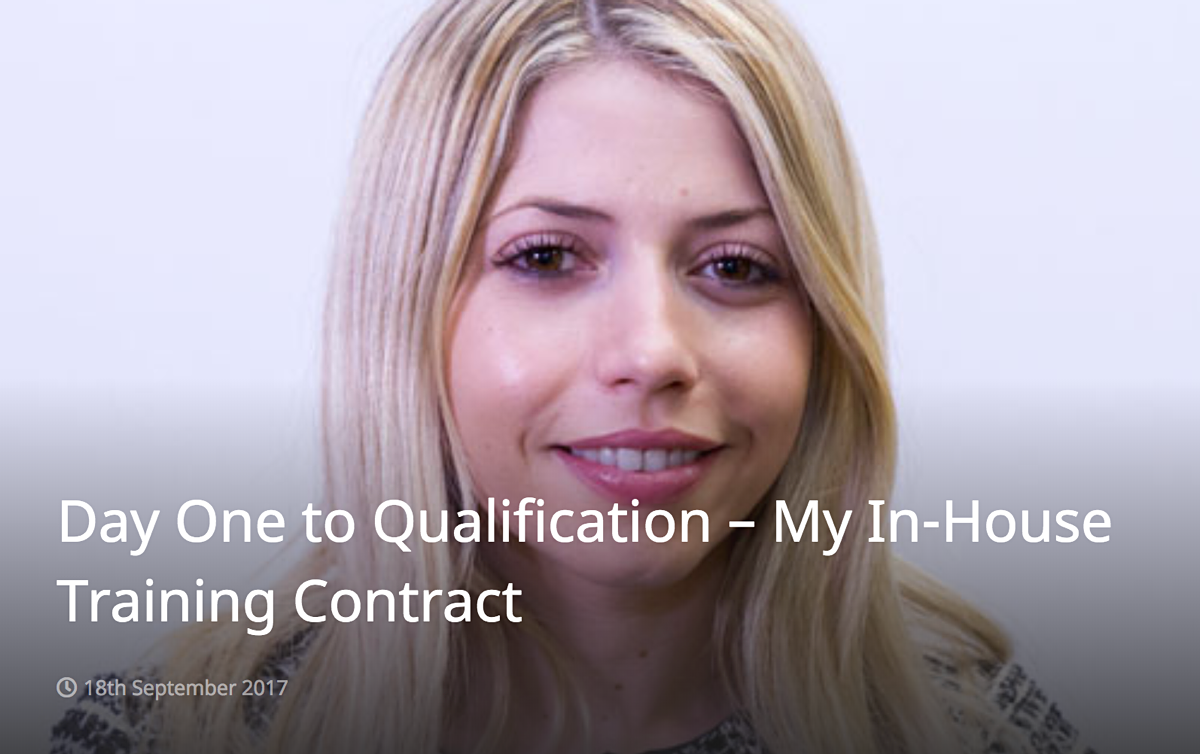 1 November 2015: the first day of my training contract. Now, almost two years later, I am approaching qualification and the (at one point fairly distant) dream of being able to say, "I am a solicitor!" is finally within reach.
While I completed the traditional route into the legal industry – college, law degree, LPC and work experience at a couple of firms – my training contract in-house has been anything but traditional. Work trips to India and Singapore were certainly highlights last year, but it has also been really satisfying to finalise an agreement after months of negotiations, to settle a dispute where litigation seemed imminent, and to see that a product campaign has been a commercial success.
There isn't a typical day working in-house – you never know what's going to end up in your inbox or land on your desk. I predominantly deal with commercial contracts, marketing materials and corporate governance, as well as supporting M&A deals, property and insurance matters.
The legal department I work in, which supports the EMEA region of the business, is very lean – 4 of us – and so the exposure and experience I have gained has been immense. I really do work with, and support, all functions of the business: from procurement and purchasing to sales and marketing, R&D, Regulatory and HR. No two days are the same to say the least.
No doubt you have heard the phrase 'commercial awareness' a fair few times at university and law school. I cannot emphasise how important it is to have a solid understanding of the business you are trying to advise, its products or services, people and priorities.  My internal clients do not want a full chapter and verse on black letter law. You have to be pragmatic and offer solutions that help achieve the commercial objectives and goals of the business, whilst minimizing any potential risk as much as possible.
How did I get here? I started off as a paralegal at the European headquarters of a NYSE listed multinational which manufactures and sells medical devices globally. After 3 years in a position that continuously evolved, I brought up the subject of completing a training contract in-house. "How will we achieve that? Do we have the necessary resources? What do we need to do to be recognised by the SRA as a training establishment?" my manager asked. I struggled to find a workable solution, but then in stepped Accutrainee.
Accutrainee is the first of its kind and truly offers a unique and flexible approach, for businesses and graduates alike. The skills you develop through being an Accutrainee Trainee are invaluable – this is all helped through the ongoing support you receive, such as monthly Training Principal Meetings, bi-annual appraisals and frequent workshops. Also, the regular networking/social events are a great way to meet other trainees and to gain contacts. I have found this particularly helpful as I am the only trainee in the department, so it's nice to be able to discuss current developments and challenges with other people at my level.
My top tips? Work hard, ask questions, be organised, seize every opportunity, and keep focused!
Carla Stagg